See on
Scoop.it
-
Psychology Professionals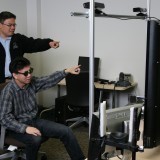 UK professor Sen-Ching Cheung recently received an $800,000 grant for his autism therapy research from the National Science Foundation (NSF).
The concept of 'self' is an important area in autism research. Children with autism typically lack interest in social interactions, but appear to be highly interested in their own image in mirrors and others imitating their actions. Under this new grant, we will be developing new software and hardware systems that can provide unprecedented capability in creating novel behaviors of self in both traditional visual medium and novel immersive devices, including the 'virtual mirror.'"Sen-Ching (Samson) Cheung received a four-year grant, totaling nearly $800,000, for his autism therapy research.
In the virtual mirror, a child with autism spectrum disorder (ASD) will be able to look at himself in a large computer display. As he is looking at himself, the program will take his image and virtually create the child carrying out the very actions he needs to learn (speaking, sitting still, social interactions with others, etc.). Through seeing the instant visual feedback from the virtual mirror, Cheung hopes that this new technology can help autistic children better concentrate on behavioral learning and generalizing abstract concepts to daily life.
See on lanereport.com
via Tumblr
Professor awarded $800,000 grant for autism therapy research, including 'virtual mirror'