See on
Scoop.it
-
Healthcare Professionals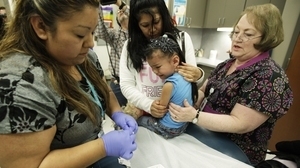 To protect children against whooping cough, doctors recommend five shots of vaccine before they turn 7.




But what happens after that? How long does the protection last?




Researchers at the Kaiser Permanente Vaccine Study Center checked it out. They compared 277 kids who came down with whooping cough, or pertussis, to more than 3,000 children who tested negative for it. Another comparison group consisted of more than 6,000 kids who were close matches to the sick kids on a bunch of factors, including sex, age and race.



The key finding: The protection from the vaccine drops by 42 percent each year after the fifth shot. So kids who got all their shots on time could become quite susceptible to whooping cough again between ages 8 and 11.
See on npr.org
via Tumblr
Whooping Cough Vaccine's Protection Fades Quickly