See on
Scoop.it
-
Healthcare Professionals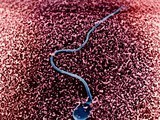 For the first time, scientists have successfully plotted the paths of sperm in 3-D, revealing corkscrew-like trajectories and "hyperactive" swimmers.
Based on a sensor chip not unlike those in smartphones and digital cameras, the new technology could lead to better male fertility testing and insights into the behavior of other microorganisms, researchers say.
Tiny and fast—even for microorganisms—human sperm are notoriously difficult to study. Nevertheless the team trained their tool on the male reproductive cells rather than easier quarry. Why? Because "sperm is one of the most important microorganisms in life," study leader Aydogan Ozcan said.
See on news.nationalgeographic.com
via Tumblr
Sperm Tracked in 3-D—A First