See on
Scoop.it
-
Business Futures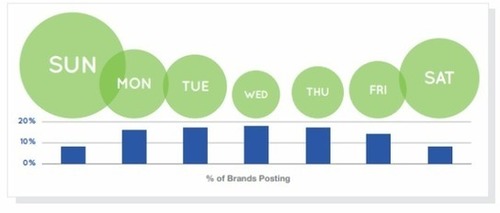 Marketers aren't posting enough on Facebook on the weekends and at night, according to a new report from Buddy Media.
If you're looking to take a day off from posting on Facebook, choose Wednesday, but don't rest on Sunday or you'll miss the best opportunity of the week.That's the advice from Buddy Media's "Strategies for Effective Wall Posts: A Timeline Analysis," a report based on activity from 1,800 of the world's biggest brand pages from April 1 to May 31.
As with previous Buddy Media reports on the subject, the analysis found that marketers are still posting too little on weekends and at night and when they do post, they're way too verbose.
See on mashable.com
via Tumblr
Sorry, Marketers, You're Doing Facebook Wrong